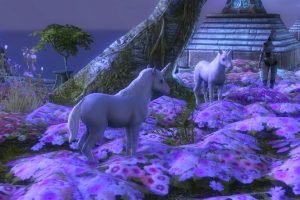 Sharpen your horns: Unicornalia is coming!
Expand your mount and pet collections during this time through spending either Credits or Chaos Motes.
Explore Telara while completing the Hooves and Horns Event and pick up 4 Daily Quests to collect Chaos Motes. You can find the corresponding NPCs in Meridian (/setwaypoint 6122 5231), Sanctum (/setwaypoint 7380 3078) or Tempest Bay (/setwaypoint 12943 11579).
You can obtain marvellous unicorns such as the Swift Celestial Unicorn, the Burning Opal Unicorn, the Noxious Onyx Unicorn and so many more!
This CTA will end on September 22 at 23.59 server time.
Check here this awesome and very detailed guide by player Caduto!(https://www.cadrift.net/events/call-to-action/unicornalia/?fbclid=IwAR3El4–_2H7iQMQ02dAoW0mPby4GipH8faVCPBk2Z7hHfdKrJC7FWqRrtw).
Log in to get started, go on this journey and grab those unicorns by their hooves, Ascended!