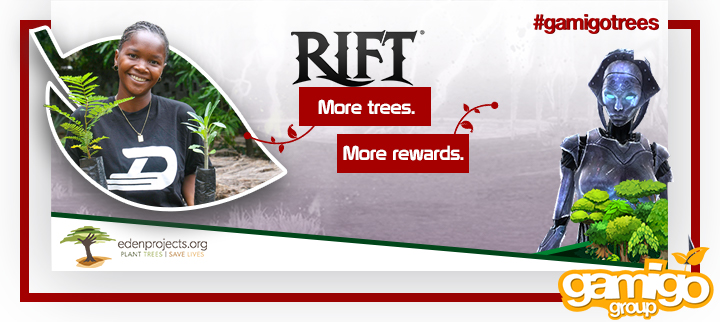 Do you remember
Eden Reforestation Projects
and the
#gamigotrees
event that we presented to you back in spring 2020? Together with you, we made a big difference and made the world a better place by helping Eden Reforestation Projects plant 113,127 trees. In addition, the project supported local people with over 1000 days of paid work.
Together, we took the first step towards a greener planet. Let's continue this path by supporting Eden Reforestation Projects with
#gamigotrees
once again!
Eden Reforestation Projects are actively combating the climate crisis as they restore forest systems one tree at a time, alleviating the devastating effects of deforestation. And every tree planted serves to protect, provide, nurture, and sustain all of life. But the work done by Eden Reforestation Projects also rebuilds communities. Fair wages and a commitment to skill-building and employment for women and single parents help keep farmers from selling themselves or their families into slavery just to survive.
How can you support Eden Reforestation Projects? It is easy, buy the following packages: Garden Bundle, Grove Bundle and Forest Bundle. For every package purchased, Eden Reforestation Projects plants trees. At the same time, you will receive treemendous items as rewards.
>>> You can find the packages HERE <<<
Not only you can get fabulous items, no, we have prepared something very special for you.
Participate in an amazing raffle and win incredible material prizes sponsored by GIGABYTE, ROCCAT and Monster.
>>> You can find the conditions of participation HERE <<<
Like last time, you can check the leaderboard
>>> HERE <<<
to see how many trees have been planted by Eden Reforestation Projects thanks to your support. Showing off has never been so ecofriendly!
Let's leaf 2020 and start the new year by making a difference – together!