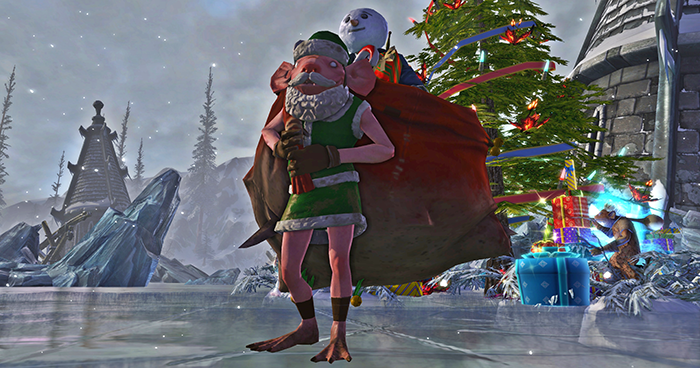 Fae Yule Bagling
Greetings, Ascended! We're slowly sledding into the most wonderful time of the year.
And with that, we yet again have nice offers and discounts waiting for you!
Fae Yule Bagling Cache
• 99€ → 49,98€
This jolly Cache contains the Fae Yule Bagling mount, one Orb of Loyalty and a Relic Captured Intel Cache! Who wouldn't want to take a ride in a sack full of presents?!
Ascended Essentials Pack
• 6000 Credits → 4800 Credits
This fancy Pack increases your character slots per server to 6, unlocks your Bag Slots 4 and 5, and additionally unlocks the Primalist calling and the Storm Legion, Nightmare Tide & Ascended souls!
Swift Cobald Crabnarok
• 4500 Credits → 3600 Credits
Not so jolly (but still very cool!) is this fierce crab. Swift and full of energy it will transport you to any adventure!
Fabulous Bundle of Dye Buckets
• 18000 Credits → 9000 Credits
Celestial Bundle of Dye Buckets
• 5000 Credits → 2500 Credits
Unlock up to 74 premium reusable Dye Buckets for your Wardrobe!
Mech Raptor
• 14,99€
This mechanical beauty is still looking for a new owner. If you're a fan of raptors you wouldn't want to miss this!
Also available during this sale will be our Planar Pounder Supply Crate for 450 Credits each and our Mystery Box: Landquarium Wonders for 400 Credits each!
Are you ready for this jolly season?