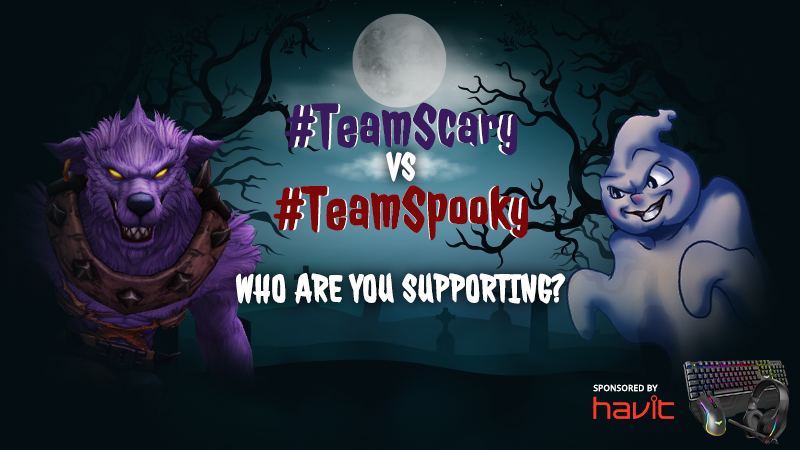 The haunt is on at gamigoween headquarters!
Join the ranks of our two factions, #TeamSpooky and #TeamScary, to help compete for the ultimate title of "THE MOST HORRIFYING TEAM", oh and there are crawling creepy prizes as well for the team with the most entries: 🦇 1 set of gaming keyboard + mouse + headset sponsored by HAVIT.
🦇 1,000 euro prize money.
🦇 500 euro prize money.
#TeamScary consisting of witches, vampires, and ghouls is well known within the fright community and will show their supreme haunting skills when they beat #TeamSpooky in the poll numbers. 
#TeamSpooky is a rag-tag group of mischievous ghosts, monsters, and skeletons that use their abilities to scream, fight, and fright their way to the top! 
🦇 WHICH TEAM DO YOU BELONG TO #TeamScary or #TeamSpooky?
Join #TeamScary or #TeamSpooky by posting your screenshots, videos, costumes, cosplay, artwork, crafts, recipes, and/or anything creative as long as it's spooky and Rift related! 
🦇 SHARE WHERE?
Submit your entry on Instagram, or Twitter with your team's respective hashtag, or by commenting on our main
Facebook post
.
🦇 HOW TO ENTER?
Use #TeamScary OR #TeamSpooky + #Rift to enter.
(#Trove, #FiestaOnline, #AuraKingdom, #GrandFantasia, #Rift, #LastChaos, #Shaiya, #Wizard101Europe, #Wizard101, #Pirate101, #FracturedOnline, #FantasyTown) in your social media post for a valid entry.
Optional: #gamigoween, #Halloween
VISIT THE R.I.P. HALL OF FAME – HERE!
Every entry counts! Support your Team by using one of the Hashtags!
🦇 CONTEST DURATION
The contest starts September 30, 2022, and ends November 7, 2022, at 11 PM (CET) / 2 PM (PST) / 5 PM (EST).  Winners will be announced on November 18, 2022. Keep your social media direct messages open so that we can reach out to you.

The fright festivities do not stop there! Are you ready to predict which team will supreme the other?
Discord Voting is open until October 24
We are simultaneously hosting a prediction event on Discord! Head over to your game's Discord events channel and make your prediction in the #voting-channel to cast your vote. Voters will need to react to the post in the voting channel with 🧛 for #TeamScary or 👻 for #TeamSpooky for valid votes.
After the polls close, patience young undead apprentice, on November 8, 2022 the team with the most entries in the "
R.I.P. HALL OF FAME
" will be revealed.
👻 REWARD
If the team that the community voted for wins (most entries in the R.I.P. Hall of Fame), everyone will be rewarded with +100% player and guild xp for a whole week.

Special Spooktober Stream
Watch our
spooktacular gamigoween stream
on Twitch and enjoy awesome GIVEAWAYS!
WHEN:
Friday, October 28
at 19:00 (CEST) / 10:00 AM (PDT) / 13:00 PM (EDT)
WHERE:
Twitch.tv/gamigogames
Tune in to our special stream in which we celebrate Halloween in many of our games!