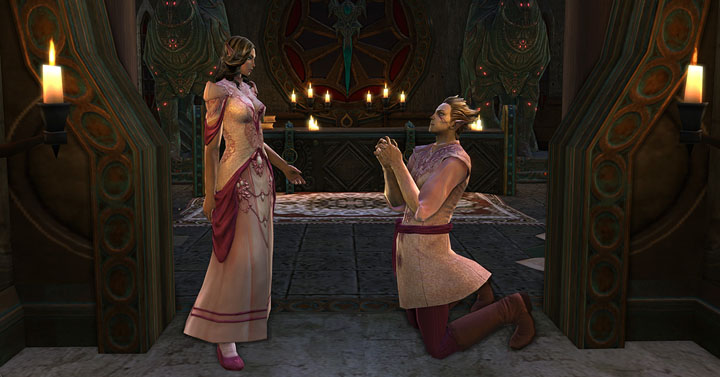 Valentine's Day is close and the Heart needs YOUR creativity!
Mariel-Taun is compassion, she is love, she is fellowship, and she is creativity and beauty. Those that follow her shall be granted wisdom, beauty, and fortune. Those, who do not, who are selfish and cruel, will be left with a hole that is never to be filled again.
She, the heart of the Vigil, is requesting your aid. Be her messenger of love and passion!
So, how can you help spread love and compassion?
Take a video (of your in-game marriage e.g.)
or
draw/paint/take a romantic picture/screenshot
or
bake a cake/cookies
or
any other kind of creative work and gesture that comes to your mind!
What do you need to keep in mind?
Your submission has to be related to Valentine's Day
It needs to be creative
You need to make sure it's flagged as your own creation (e.g. written character name + shard on a paper next to your creation)
One entry per person only
Everything must be rated T for teens
The contest is open for both NA and EU
The contest will be open for 3 weeks starting today and thus ends on the 25th of February 12 PM CET / 3 AM PST.
The rewards will be sent as soon as possible after the event is over.
What will Mariel-Taun grant you in return?
1st Place: A mount of winner's choice* + 30 Days of Patron
2nd Place: A costume of winner's choice* + 30 Days of Patron
3rd Place: 30 Days of Patron
*Excludes mounts and costumes from achievements and power packs.
Regardless of your beliefs – either Defiant or Guardian – the Heart of the Vigil is relying on you, Ascended! Spread the love!